TINTYPES MADE FROM YOUR IMAGES
Authentic Tintype enlargements hand-processed and shipped right to your door with the digital negative to Tintype technique. Tintypes are one of the first in-camera photographic processes and were widely used during the Civil War era.  People are enamored with the magical shimmery metallic qualities of a Tintype.  Using a combination of digital and a historic process, Tintype projections can be printed onto large format plates, composites, and used in mixed media.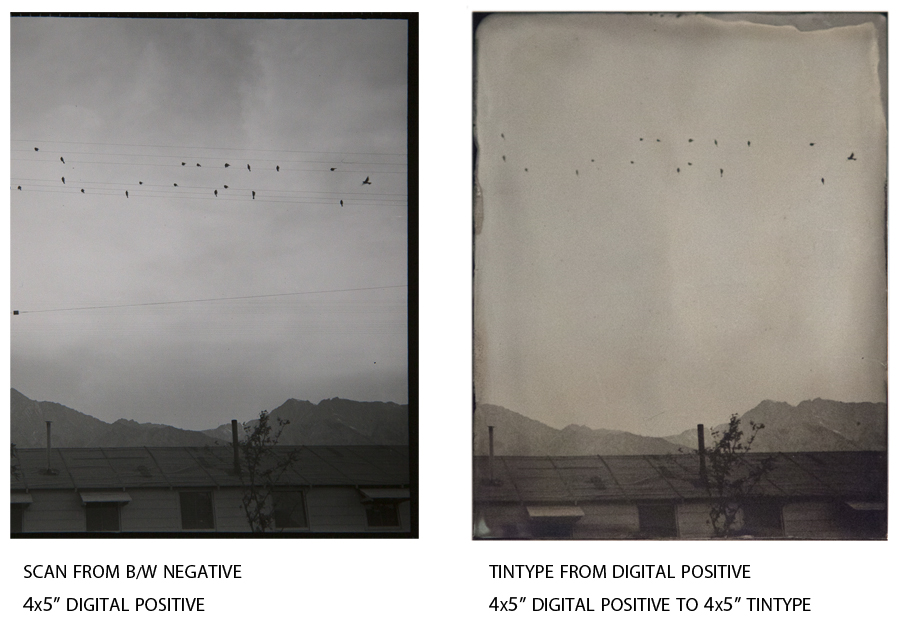 PRICES + WHAT'S INCLUDED
Service includes image sizing and prep, custom layers/curves/and conversion to black & white, digital positive, and plate. Please contact us for BIG or small plate size orders.


TURNAROUND + DELIVERY + PAYMENT
○ 5-day turnaround for printing
○ 7+ additional days for custom plates larger than 12×12″
○ Delivery date + cost depends on plate quantity and delivery location
○ Plates are sent priority mail with insurance and delivery confirmation
○ Orders must be paid in full prior to job start, turnaround times and shipping are determined by date of payment
WHAT TYPE OF IMAGE IS BEST
○ Upload an iphone photo (4, 4s, or 5), digital point & shoot or DSLR pic, or scan from a print, negative, or slide. As long as the image is "high res" it can be printed. By high res, we mean original files from cameras or scans large enough to be printed at least 6″ long at 240ppi
○ Ideally images should be sharp/in focus, decent exposure, and can be people, pets, landscapes, objects, or anything you can imagine